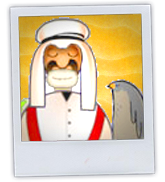 Golden Sands is the fourth theme of LittleBigPLanet Portable based on Egypt and its Creator Curator is Prince Funubis.
Characters
Edit
Main Levels
Solve a fruity puzzle, and ride the Prince's camel across the fiery sands. [more...]


Move the Prince's goods across the river, pronto! [more...]


Inspect the unexpected. [more...]


Side Levels


Get across the assault course. Survival is your reward (and the points you collect).


Music
Peace Pipe - Nicodemus feat. Jean Shepherd
Isis Unveiled - Phil Thornton & Hossam Ramzy
Kobana - Ali Hassan Kuban
Sacksophone Bounce - Jim Fowler