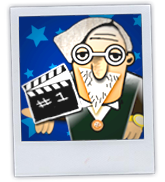 Tinsel Town is the sixth theme of LittleBigPlanet Portable and its Creator Curator is The Director.
Characters
Edit
Main Levels
It's time for your LittleBigScreen debut. [more...]


Face the big alien boss, and kick his big alien ass. [more...]


Your mission, should you choose to accept it, is very tricky. Did we mention the lasers? [more...]


Good evening ladies and err primates? [more...]


Side Levels
Get through the horribly haunted house. Who dares, wins (lots of points).


Jump the canyon of probable death on your mean machine for a juicy points fest.


Music